Squarespace vs WordPress: Which One is Better for You?
Squarespace vs WordPress: two powerful website building platforms. If you're looking to create a website with all the modern-day aesthetics, the two most obvious platforms are Squarespace and WordPress.
But which one will work best for your site? True enough, there are plenty of business and preferential variables that help you choose one platform over another.
In this article, we're going to focus on some of those variables. More specifically, we're going to use those variables, and analyze whether Squarespace or WordPress is more suited to them.
Table of Contents
Squarespace vs WordPress: The Quick Roundup
Both of these platforms are intended for very different audiences.
On one side, lies the self-hosted Squarespace. A website builder gives you access to a variety of security and SEO tools, themes, and templates right from the get-go.
On the other side, you have WordPress, the gigantic Content Management System (CMS). While equipped with a variety of features for almost any activity, WordPress is essentially a platform where you have to deal with all the aspects of a website yourself.
Squarespace charges a monthly fee to users for using their services. The good thing about it is that it allows users to focus on their creativity and website activities rather than on back-end issues (more on that later).
But WordPress prides itself on its market reputation, supportive community, and a wide range of plugins and themes (both free and paid). Compared with the former, WordPress has a steeper learning curve. But the trade-off is that you can create a fully customized site from the ground-up.
But which platform is better?
It depends entirely on the user. If you're a non-techie or have a general dislike of code, but have a creative flair for blogging, then Squarespace is for you. It has everything you need to create an excellent blogging site.
WordPress is for you if you don't feel threatened by code or have some level of coding knowledge. At the basic level, you don't even have to touch code. It has everything you need to create a powerful blog. All in all, it delivers more value when you get the hang of it.
Flexibility: Squarespace or WordPress?
Right off the bat, WordPress is the winner in terms of flexibility.
Yes, Squarespace indeed comes with plenty of good features out of the box. But being a closed source platform, it locks users down when they perform customization.
In comparison, WordPress, being an open-source platform, provides you the room you need to personalize your website. With thousands of open-source plugins and themes, you don't have to worry about getting locked down.
Fun-Fact: A wide majority of WordPress plugins and themes are free to install and use. They can be found in the official WordPress Plugins and theme directories.
That being said, there are plenty of ways you can somewhat enhance the functionality of Squarespace.
Built-in integration services like Mailchimp, Dropbox, and G Suite can be used to make your Squarespace workflows better.
A recent addition to Squarespace is the extensions store. They are very similar to WordPress plugins because they add extra features and functionalities to your website. The extensions store, however, does not have a collection as huge as WordPress.
As the user-base increases, we've seen a slow rise in the Squarespace developer industry. Being closed-source, however, those services are limited only to developing snippets of code developed to add new functionalities to Squarespace.
While not as easy to install, these plugins have helped Squarespace secure a more competitive position to WordPress. However, they still have a long way to go against the giant.
Supporting Large Scale Websites: Squarespace or WordPress?
If you're going to use Squarespace for a large-scale website, then don't.
Squarespace lacks the functionality to support complex website hierarchies. The navigation levels are just static, and you cannot build proper sitemaps. In short, it creates flat websites that are usually limited to blogs and small-scale setups.
On the other hand, WordPress has significant support for building websites with complex navigational and page hierarchies. It also supports proper sitemap configuration. On WordPress, we've seen navigation level go rather deep with multiple linked pages.
A testament to WordPress' support for large scale websites comes with its amazing support for eCommerce websites – a point which we will talk about in the next section.
Which Is Better for Ecommerce? Squarespace or WordPress?
Squarespace and WordPress are both good choices for running an eCommerce store. Then again, it depends on the type of operation you want to run.
Squarespace has a wide variety of eCommerce support systems built-in. You can use them for various applications. However, it has its limitations, such as:
Limited payment gateways
Basic sales processes
Lack of business process automation
If you're setup is small, and you're comfortable with using Squarespace for eCommerce, then, by all means, use it. But if you want to compete with medium to large-scale businesses, then you should ideally look for another platform.
On the other end of the spectrum lies WordPress with its powerful support for a wide range of eCommerce functions.
If you're a medium to large-scale business, regardless of whether you're B2B or B2C, then you should ideally use WordPress. More specifically, you should use WooCommerce, a plugin by WordPress.
WooCommerce is a success story in the world of eCommerce. What started out as a simple eCommerce plugin has now transformed into a platform with its own theme and plugin store.
A straightforward installation process, with WooCommerce, you can avail of highly-functional and scalable features for your store. That being said, there are industry giants like BigCommerce and Shopify that put WooCommerce in second place.
But when compared with Squarespace, WooCommerce is the heavy-duty winner.
Search Engine Optimization: Squarespace vs WordPress
Again, WordPress, because of its platform's strength, easily wins against Squarespace in terms of SEO.
First and foremost, in WordPress, meta tags, alt tags, and everything else are named exactly. On Squarespace, you'll face a lot of trouble with naming conventions like "captions," "descriptions,"" and more – leaving you in confusion.
WordPress also comes equipped with a wide range of SEO plugins like Yoast and Rank Math that power up your SEO efforts, helps place your site in search engines, and more. On Squarespace, there is no competing functionality present.
Site Maintenance with WordPress, or Squarespace?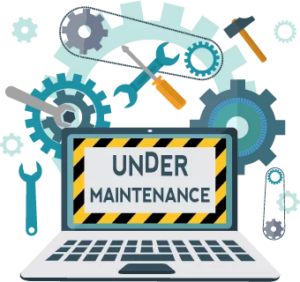 This is where Squarespace comes out as a winner. Its users are free from the burdens of site maintenance. Since Squarespace works as a SaaS platform, all of the site maintenance processes are covered by the company.
The WordPress world is unforgiving when it comes to maintenance. Ensuing that your plugins, themes, servers, and WordPress versions are up-to-date, you have to do everything yourself.
There are plenty of automation plugins available online, but overall, you have to perform maintenance yourself. Failure to ensure support leads to vulnerabilities and hacks, which you absolutely don't want to go through.
This brings us to the question of security….
Security in WordPress and Squarespace
The sanctity of a website depends on how good its security is. Poor security leads to poor performance and hacks, simple as that.
On Squarespace, a hosted solution, the company plays a major role in ensuring that your site is secure from bugs and malware. You're paying a hefty price for using their services, so it's their responsibility to ensure you have a safe environment to work in. Apart from security, they also ensure that your site has significant backups in the event of things going awry.
While all of that shows a willingness from Squarespace's end, in recent years, it has faced its own security issues with DoS attacks – bringing down various sites in the process.
With WordPress, security depends on the type of host you're working with. With a cheap shared host, you are vulnerable to attacks and hacks. The better the hosting, the more secure you are.
Even with all this, Squarespace is definitely the leader when it comes to security.
The primary reason we're saying this is because using WordPress, if you're not employing a developer or agency, you're left alone. With a self-hosted platform like Squarespace, for the most part, you don't have to worry about your site getting hacked just because your forgot to maintain it.
Besides the general security issues, WordPress' themes and plugins are also vulnerable to malware injections and backdoors. This is why you need to be careful about selecting a theme or a plugin. If it's not updated frequently, don't install it on your site.
With so much insecurity for your site with WordPress, Squarespace comes out as a winner in this category.
Content Control on WordPress vs Squarespace
An often-overlooked fact in these comparisons, we feel the need to elaborate on the role content control plays in a webmaster's operations.
On WordPress, you can do whatever you desire with your content. Since you're paying for the host and have the domain, you can post whatever you like. With Squarespace, you have to create content that doesn't violate its usage policies.
That does not mean that WordPress is exempt from such usage policies. Your hosting provider could take down your content if they feel it violates specific policies. In that case, you can always switch to a more liberal host.
Overall, content control is a lot better on WordPress than on Squarespace. With backups, you can secure your data (with the content) in the event of things going wrong. On Squarespace, you have the option of exporting your data, but it comes with some limitations.
With WordPress, content control is better than Squarespace. Depending on the type of site you have, this is one factor that you should not disregard.
Support with WordPress and Squarespace
If you're not employing the services of a web developer or a development agency, then getting support can be very tough with WordPress. Squarespace, being a self-hosted platform, is generally better at providing support.
When you purchase a Squarespace account, you become a member who is now entitled to help and support. Squarespace wins because it doesn't require you to incur the costs of an agency or a developer. If you run into a serious problem, you can just contact support and deal with it.
In a different setting, if you're building a site with WordPress, you won't get much support. However, you can troubleshoot particular problems or find a community of WordPress users ready to help you.
Final Words
There are a range of developers who feel comfortable in using WordPress as a CMS, and there are some who disagree. In terms of flexibility, it's a good tool to use. But it's not the ideal choice for all users.
We believe that Squarespace is a good choice for beginners and budding webmasters who want to start an online project, but are unaware of coding practices and have never touched a WordPress site. We back this belief up with one claim: it's easier to set up Squarespace than WordPress.
Once you've set it up, you don't have to worry about security or maintenance, because it's all covered by the company. Instead of focusing on the most recent industry practices, and security updates, as is the case with WordPress, all you have to do is focus on creating content.
For photographers, wedding planners, music bands, and other small business owners, Squarespace is an ideal solution. All they have to do is visit the Squarespace website, click on the plan they want to purchase, select a template that best fits their needs, and then start working without the technical fuss.
On the flip side, if you're running an eCommerce store, or have a heavy-duty website or blog requirements, you should ideally select WordPress as the platform of choice. While the learning curve is indeed steep, once you get the hang of things, you can seriously benefit from WordPress.
We hope that this article gave you the primer on both the platforms. Until next time…
Read Also